13:53, June 18, 2018
Small-scale dairy farmers, irate over the low milk prices being offered by wholesalers, brought their protest to the center of Yerevan today, parking their trucks, loaded with several tons of milk, outside the Government Building.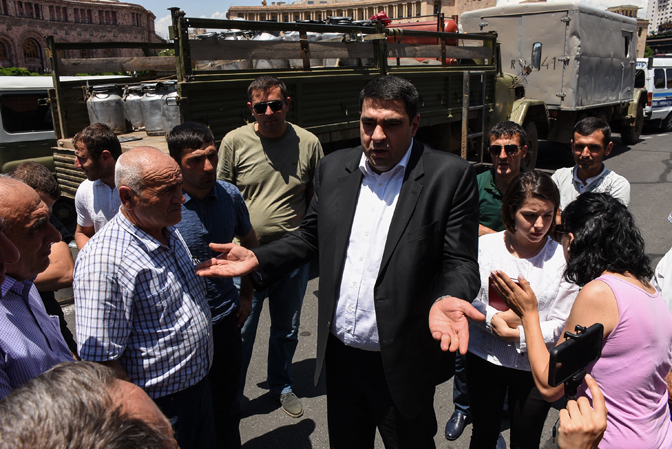 Lernik Abrahamyan drove his truck, laden with milk cannisters, to Yerevan from the Kotayk village of Geghashen.
Laughing, he said that Yerevan residents can now directly buy their milk from farmers like him.
"If the companies buying our milk don't pay more, we'll dump the milk," Abrahamyan said.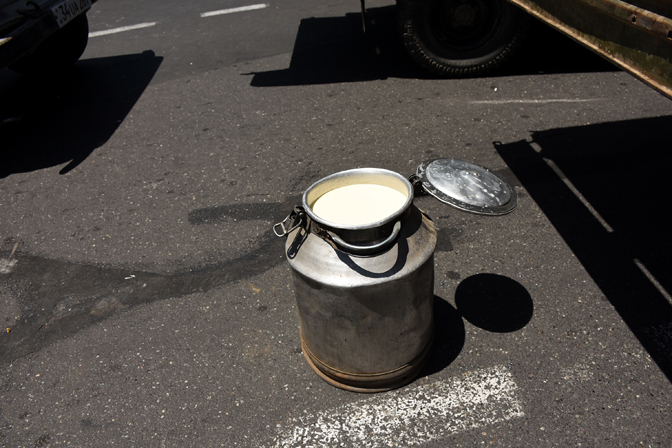 Farmers in Geghashen are now being paid 120-130 drams for a liter of milk. Abrahamyan says the price has dropped by 70-80 drams in the past month and company buyers haven't explained why.
Levon Abrahamyan, from Noratus in Gegharkunik Province, was also at the protest.
He says buyers have told him that the drop in the milk price is due to oversupply.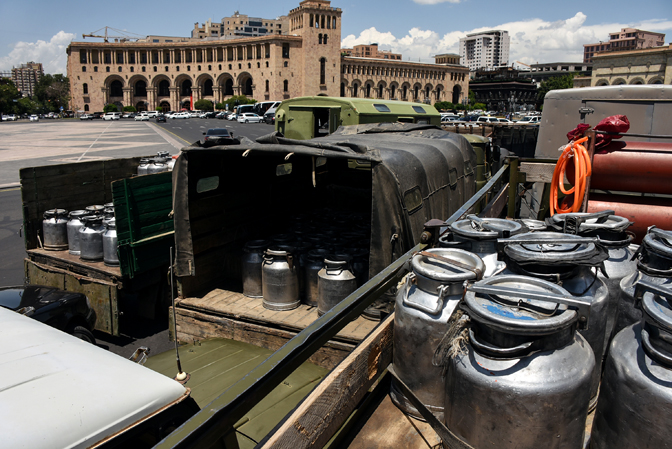 "If, as they say, there's an oversupply of milk that has dropped the price they pay us, why haven't they dropped the retail price of their product. One kilogram of sour cream sells for 550 drams, but they pay us 140 drams for our milk," Abrahamyan said, adding that he's afraid he'll be forced to take out another loan to stay afloat. "Gasoline and diesel prices go up but the prices our milk fetches go down," he said.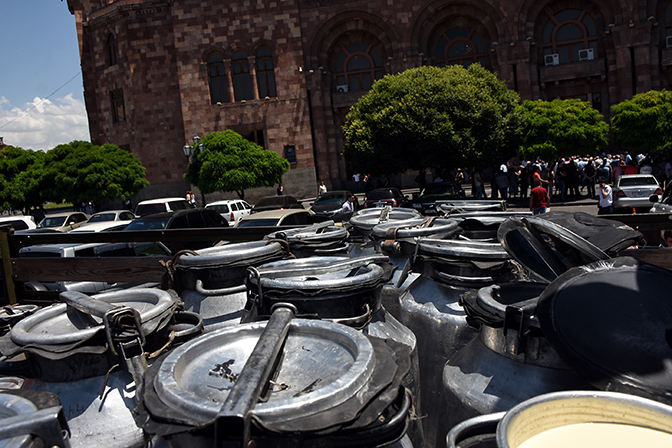 Edward Sargsyan, also from Geghashen, participated in a demonstration outside the Government Building four days ago.
He says that while Artashes Ghazaryan, who heads the Department for Reception of Citizens and Discussion of Petitions, promised to convey the demands of the protesters to government officials and to get back to them by the following day with possible resolutions, he's not heard back from any official.
Photos: Narek Aleksanyan