10:21, April 13, 2016
A Facebook page has been created calling on the Armenian government to call back its ambassador to Georgia, Yuri Vardanyan.
It seems that the creators of the page are infuriated that Vardanyan did not officially respond to the remarks made by Georgian MP Georgy Gabashvili (who represents Saakashvili's United National Movement) on April 8 where he called for a settlement of the Karabakh conflict on the basis of the "fundamental principle of territorial integrity."
Vardanyan was appointed Armenia's ambassador to Georgia on June 24 of 2014 but has mainly been involved in making speeches.
According to the website of the Armenia's embassy in Georgia, Vardanyan has only worked one day this year, January 27. It was on that day that the 24th anniversary of the establishment of the Armenian Armed Forces was marked in Tbilisi.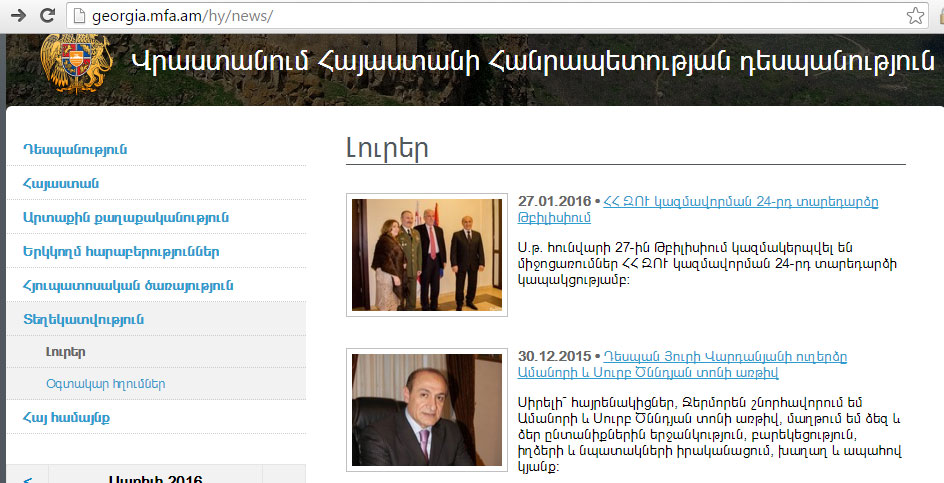 Overall, the ambassador merely participates in various holiday celebrations and events. It turns out, however, that the Armenian community doesn't let Vardanyan past the door when it holds important events.
Take the example of the consecration of St. Gevorg Church in Tbilisi last October 31. The ceremony was officiated by Catholicos Garegin II and was attended by Armenian President Serzh Sargsyan and various dignitaries. Security personnel didn't let Vardanyan into the church. Those present say that Vardanyan had to wait outside until the ceremony was over.
Vardanyan was also turned back on his way to attend the June 2015 ceremony unveiling a stone cross in the village of Karmir dedicated to the victims of the 1915 Armenian Genocide. The village had made preparations to welcome the dignitaries, including Ambassador Vardanyan, but he never made it. The story is that the ambassador obeying, the call of the Marneuli provincial governor not to inflame tensions between the Armenian-Azerbaijani communities, returned to Tbilisi.
The recent round of fighting along the Artsakh Line of Contact has ratcheted tensions in Javakhk. Local Armenians tell Hetq that clashes have erupted on the Turkish-Georgian border between Armenians and Turks passing through the Kartsakh customs post. Ambassador Vardanyan appears uninformed of the matter.
In the end, there is one issue that greatly concerns the public.
Mr. Ambassador, are you aware that Armenia has suffered 75 dead to the recent round of fighting?
Mr. Ambassador, are you aware that as Armenia's ambassador to Georgia, you were obligated to use the embassy's website to disseminate credible information regarding the Artsakh issue and the fighting?
You also should have provided such information through various social internet sites and defended the positions of Armenia at various meetings and events. You were sent to Tbilisi on a diplomatic mission and not for an extended holiday.
Finally, Mr. Ambassador, step up to the plate or else remove yourself from the playing field, where they don't even applaud you. This is war, not a game.