13:30, December 1, 2015
Karen Hakobyan, the Deputy Governor of Armenia's Gegharkunik Province, and Yurik Baghdasaryan, Mayor of Landjaghbyur, a village in the same province, are gearing up to mine and export sand from the village.
Like many officials in Armenia, the Hakobyan has concealed the operation under the name of his wife, and Baghdasaryan under the name of his son.
The plan to mine the volcanic sand located in Landjaghbyur was presented by a company called M.M.P. Ltd. Gegharkunik Deputy Governor Karen Hakobyan was listed as a shareholder of the company until December 2014. Hakobyan was an aide to the governor when he acquired the shares. Five months after becoming the deputy governor he registered his shares under the name of his wife Gayaneh Ghoukasyan. From 2009-2011, Hakobyan served as an aide to the environmental minister.
The remaining 50% of the company is registered under the name of Marat Baghdasaryan, the 21 year-old son of Landjaghbyur mayor Yurik Baghdasaryan.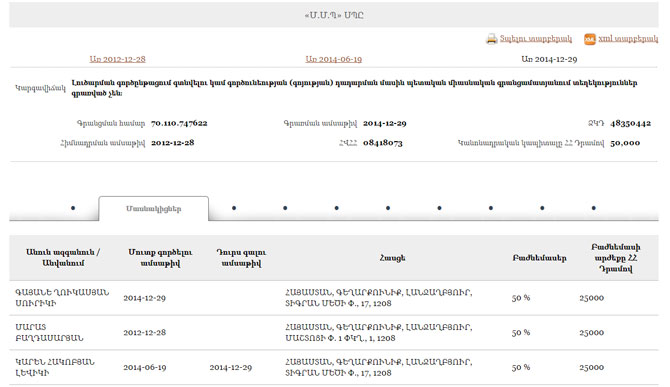 Estimates of the volcanic sand in Landjaghbyur are 527, 300 cubic meters. Plans are for the sand to be mined openly. The mine itself covers 5.24 hectares of village land.
The mine is located along the northwestern shore of Lake Sevan, some 15 kilometers from the Sevan National Park and 15 kilometers from the Gavaraget State Preserve.
A public hearing regarding the potential environmental impact of the mine was scheduled to take place on December 11, at noon, in the Landjaghbyur municipal office.
Naturally, for his mine, Mayor Baghdasaryan had already given the necessary permission and had seen to it that the first stage of the hearings had a positive outcome. Thus, future hearings will also end favorably.
No one at the Landjaghbyur municipality answered Hetq's telephone calls.
The employee at the Gegharkunik Governor's Office, who answered our three calls, said that Hakobyan was away at a meeting.
Photo: Karen Hakobyan, Yurik Baghdasaryan