00:05, November 12, 2015
Unifish, one of Armenia's largest fish farms, has been declared bankrupt.
Artur Atoyan, president of Armenia's Fish Farmers' Union, told Hetq that if the ministry continues to display its indifference towards the sector, another 35 fish farms in Armenia will close as well.
Unifish was taken to court by Acba Credit Bank after it failed to pay 6.5million Euros and US$ 5.1 million in loan repayments by the June 2015 deadline. The loans were pegged at annual rates of 9%-10%.
For years, the Armenian government had issued a green light to fish farming. In 2008, President Sargsyan visited the Unifish operation in Ararat Province and spoke about the possibility of increasing production, especially for export. (Unifish was exporting great amounts of fish to Russia)
According to data provided by the ministry of the environment, Unifish was the largest consumer of water in the province.
So what went wrong?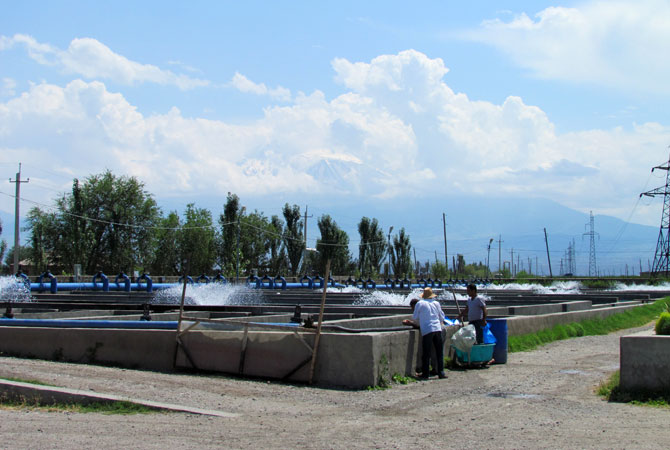 As part of its campaign to shut down illegal wells in the Ararat valley which were consuming huge amounts of artesian water for local fish farms, the ministry of the environment also closed five wells operated by Unifish at its Sayat Nova hatchery.
In 2007, the sole shareholder of Unifish was Armen Mkrtchyan. In 2014, he transferred his shares to a company called M-T Capital Holdings, registered in the Seychelles.
Hetq tried to get in touch with the company by phone. The numbers were no longer in service.
Armenia's exports of fish and fish products from Armenia have not dropped in the past few years, despite claims to the contrary by the country's Fish Farmers' Union.
The National Statistical Service (NSS) reports that more than 1,000 tons of fish (fresh, live, frozen) were exported in the first nine months of 2015.
Atoyan claims that Armenia exported 1,177 tons of fresh fish so far this year, a drop from the 2,274 tons exported last year.
Fish Farmers' Union President Artur Atoyan says that ministry of agriculture claims that the sector has experienced growth and that the depreciation of the Russian ruble hasn't impacted it, are false.