12:20, September 14, 2015
Construction work was underway when I visited the Saint Norashen Church in Tbilisi.
The 15th century church is one of the several churches in Georgia whose property rights are contested by the Armenian and Georgian communities.
Mingrelian workers were busy replacing the paving stones at the entrance of the church to prevent water from collecting every time it rains.
I asked the workers if they knew what churches stood side by side at the site. One answered, "The lower one is Georgian and the upper church probably Armenian."
The Norashen Sourb Astvatzatzin Church (Holy Mother of God) is located in a central and ancient neighborhood of Tbilisi, next to Meydan Square, in Leselidze Street, in the vicinity of Saint Sion, the Georgian Primate's Residence and the Greek Jvaris Mama Church. The name Norashen is of Armenian extraction and means 'newly constructed'.
The foundations of the church were visible and submerged in water.
One of the workers argues that it was ground water that had weakened the foundations, causing cracks in the church walls.
The workers are installing large pipes to catch the rainwater and divert it from the church into the public sewage system.
When I asked the worker what would happen to the church after the repairs are complete he said it would be turned into a museum.
Construction crew leader Tamaz Aboulatze confessed that he was merely directing the reinforcing work on the church and had no clue as to its fate.
Aboulatze said the project will be completed in six months.
Georgia's Foundation for the Preservation of Historical Monuments has allocated 504,000 Lari (US$ 210,000) for the project.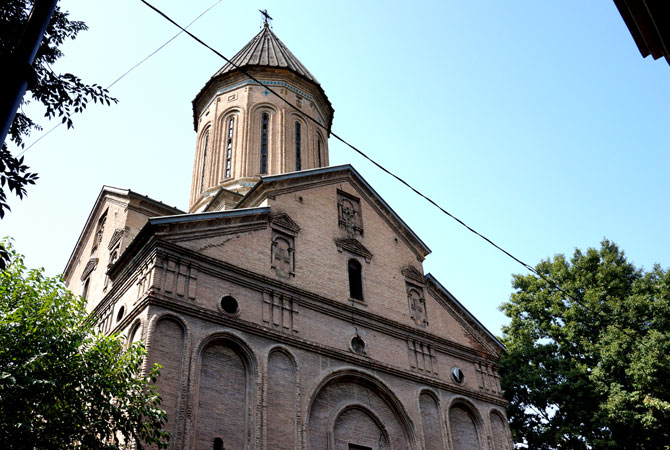 P.S. We attempted to speak with Armenia's Ambassador to Georgia Yuri Vardanyan about the church and the Armenian community. His assistant first responded that the ambassador was quite busy and couldn't talk. The assistant called me later to say that the ambassador would be leaving for Yerevan and couldn't meet with me.