00:03, June 1, 2015
As I approach the Avetisyan family's two story house on the outskirts of Vardenis, a village in Armenia's Aragatzotn Province, I get the feeling that I was given wrong directions.
I was looking for a house that belonged, I believed, to needy family with many children.
Nevertheless, I was once again reassured by the village residents accompanying me that this was the house in question. It was just, they explained, that another brother lived in this, the better section of the house.
Then I remembered that Vardenis Mayor Kamo Petrosyan had just mentioned that there's a dearth of houses in the village leading to a drop-off in marriages. When brothers marry, they each get a section of the family house.
Before setting foot inside I get the feeling that the lady of the house is attentive and tidy. The animal dung drying in the yard has been placed with a degree of precision.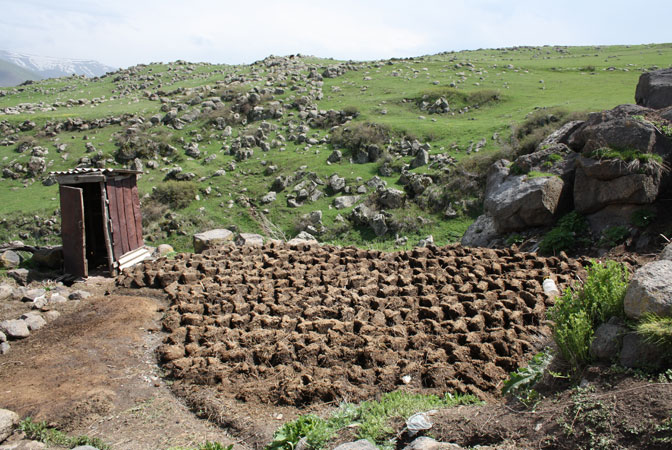 One of the Avetisyan's seven children frolics near a truck parked in the yard. A little later I spy Mariam, the mom. She's reticent to talk. Perhaps she's a bit embarrassed to do so in front of the neighbors.
"We have no income to speak of. My husband has left for Russia to work in construction. We get by," Mariam says.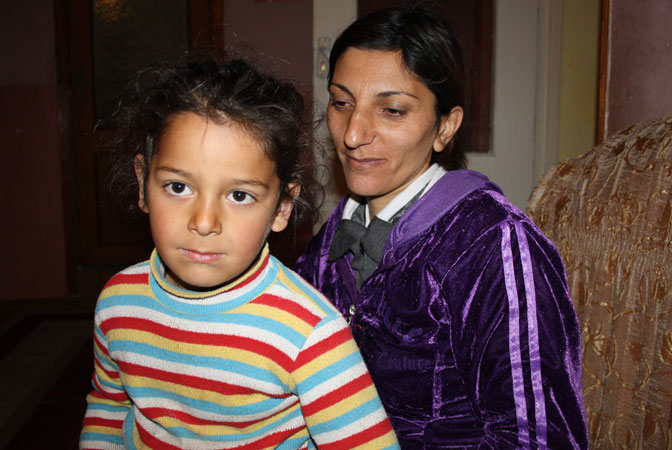 Mariam is only 32, but the effort of raising her seven children aged five to fifteen, shows on her face. She has three girls (Sveta, Sonia and Sofia) and four boys (Vazgen, Vahan, Vanoush and Vahe).
There's a 600 meter plot near the house to grow potatoes for domestic consumption. Since there's no water, they can't grow more to sell. Their three cows provide the milk for dairy items. The family also receives a monthly allowance of 68,000 AMD (US$142).
Vahan, one of the boys, hasn't had his hair cut since he was born. This prompts one of the villagers who accompanied me to ask, "Hey are you a boy or what?"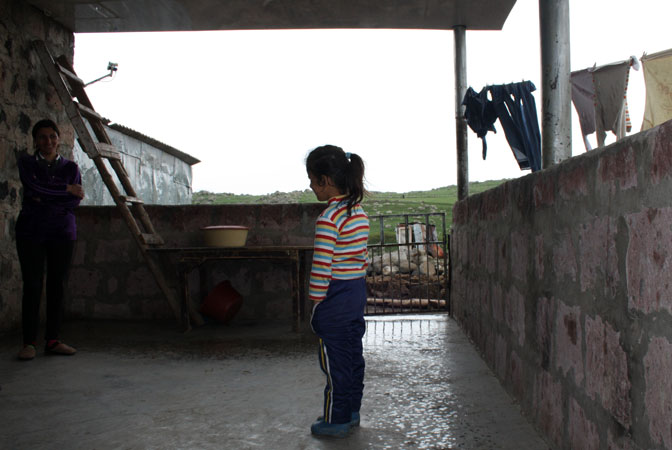 Vahan responds that he'll get his hair cut once he's baptized. Mariam adds that it was the wish of the boy's grandmother. Vahan has been waiting to get baptized for five years now.
Despite the presence of seven active children, the house itself is very well attended to. Mariam tells me that there are a few rooms that haven't yet been renovated but if her husband has been lucky and found work, they too will be fixed.
While the kids are average students in school, they really like their music and dance lessons. Two of them are in the village school's dance club. Vazgen tells me that he wants to pursue a career in dance and to play the duduk (ancient double-reed woodwind flute) when he grows up.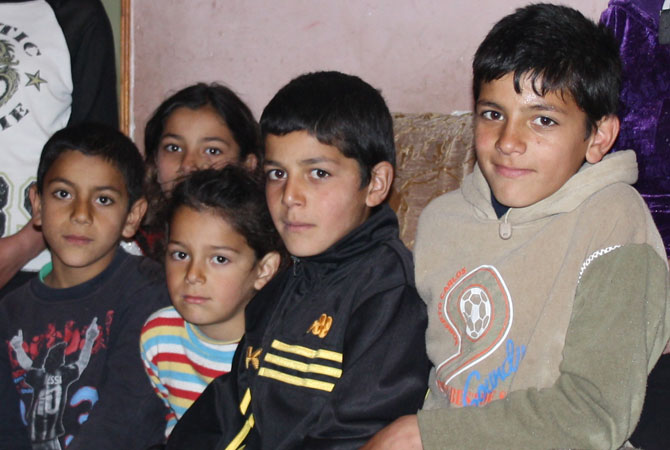 Vazgen is one of the kids in the dance club but he's never played the duduk yet. His younger brother Vanoush wants to learn to play the dhol (drum). Mariam tells me that music classes are taught in Abaran and that the family doesn't have the means to send the children there every day.
Lessons are 2,000 AMD per month and the children must obtain their own instruments. A final problem is that there isn't any public transportation to make the five kilometer crossing from Vardenis to Abaran. The kids would either have to walk it or pay the 1,000 dram taxi fare.
The children's continuing education is up in the air and dependent on family finances.
Sofia, the eldest at fifteen, was to become a beautician after she graduates from high school. This hope of hers also depends on the fortunes of her father now in Russia.