09:35, March 3, 2015
Vardan Ayvazyan, a Republican Party MP in Armenia's parliament who heads the Standing Committee on Economic Affairs, is building a huge fish market in Tbilisi.
The plant, located not far from the center of the Georgian capital, is known as a restaurant hub.
In September 2011, Ayvazyan founded a company called Unicom of which he was the sole shareholder. According to the Georgian State Registry, Vardan Ayvazyan registered his company shares in the name of his son Souren Ayvazyan. This was after the 2012 Georgian parliamentary elections, and it appears that he was concerned that his assets would be at risk with the change of power. His friend, onetime Minister of Internal Affairs Ivane Merabishvili, had been jailed, and Ayvazyan was afraid that he too might be persecuted as a result.
Vardan Ayvazyan, born in the Tabatzghour village of Georgia's Samtskhe-Javakhk region, leased a lake there and launched a fish farming enterprise. (The video is in Georgian with Armenian subtitles).
Local residents say that Ayvazyan founded the business with Ivane Merabishvili, and it seems that the fish are to be sold at the new Tbilisi center being built. The security guard Aleksandr Tabidze told that Ayvazyan also wanted to house a fish restaurant at the center.
Construction has been underway for the past three years. The center, according to a work permit at the site, is scheduled to open this September. But construction has been at a standstill for quite some time.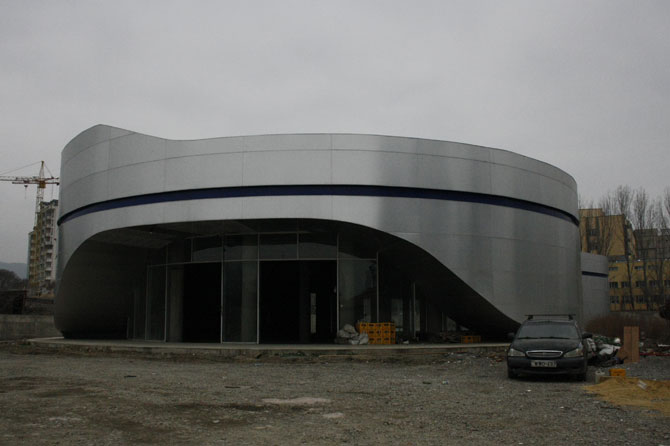 After three years, fish market remains unfinished
When we visited the site security guard Aleksandr Tabidze said that work would renew in March.
He said that the center would house a fancy restaurant. The center will occupy 1,200 square meters of the 8,000 square meter site. Tabidze said that the site's market value is 4 million Lari (US$1.9 million).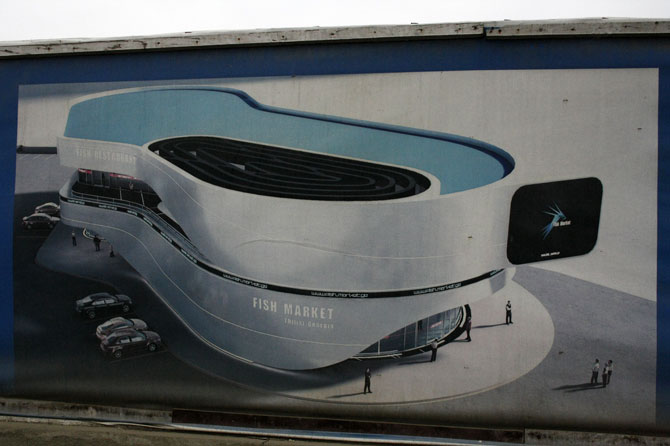 Fish market's finished look
The security guard knows that an Armenian, in his words a "respectable MP of the Armenian parliament" is building the complex. Tabidze said that Vardan Ayvazyan visits the site often and that he personally knows him.
Nino Bakradze contributed to this article