16:14, December 30, 2014
Santa the cat was rolled up in a ball behind the stove in Hasmik Grigoryan's shop in Kapan.
As I was focusing on photographing Santa, Hasmik laughed from a window.
Hasmik named the cat with that unique moniker and they have been friends for the past five years. Santa greets Hasmik at the entrance to her house every morning and escorts her back from the shop in the evening.The shopkeeper feeds the friendly cat but never takes it home.
The large red umbrella atop the blue store creates a kind of romantic image which immediately fades when one sees the various pickles, fresh and dried greens, and the battered scale inside.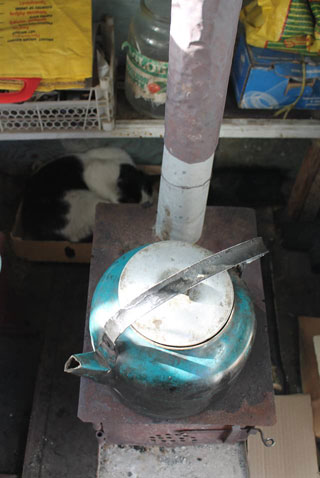 Hasmik occasionally pokes her head outside to greet a passing acquaintance and to wish them a happy New Yrear.
As I approach the shop, Mrs. Hasmik gets up, greeting me with a smile. It's a questioning smile. I introduce myself, and she gently smiles in return.
74 year-old Mrs. Grigoryan tells me that the store was a famous lemonade stand in the Soviet era. It was the only item sold. Before retiring, Mrs. Grigoryan worked as an accountant at a furniture factory.
"Afterwards, well, the factory closed just like the others," she says, recounting that there were several factories (shoes, canned goods, tricotage and bulb) in Kapan before Armenia gained independence in 1991. "But what is there now? Nothing," she exclaims.
Mrs. Grigoryan didn't want to stay at home after retiring. Rather, she wanted to help the family however she could.
She's been working at the store for more than twenty years now. At first, Mrs. Grigoryan sold veggies but business wasn't that good.
Her main sellers are the various pickled goodies (cabbage, cucumbers, peppers) she makes at home. A three liter jug costs from 1.500-2,000 drams.
Reflecting on New Year's, Mrs. Grigoryan says that some of the people who pass her store are loaded down with shopping bags while others are empty-handed.
"You ask about New Year's? Those with money are happy, those without are sad" she notes.
Store clerks in Kapan are mainly dissatisfied with the lack of business.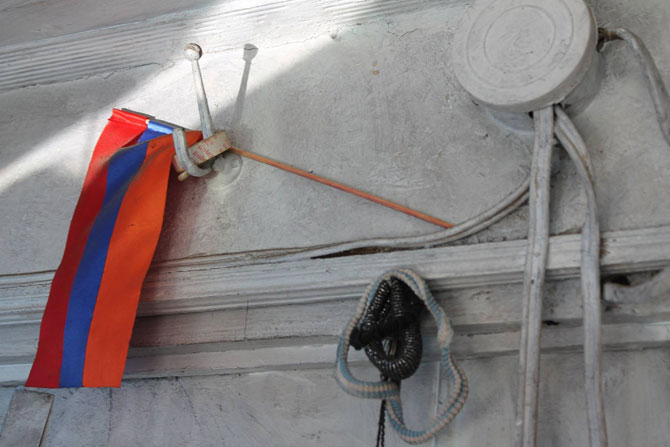 When I asked one "How's business?" the woman responded, "It would be more appropriate to ask how many customer tabs I have."
Mrs. Grigoryan doesn't like to talk about such matters. She wishes good health to all. The rest will come in turn.