10:59, September 22, 2014
The Mouradyan family of Talin believes their son Arman was killed while serving in the Artsakh Defense Army and did not commit suicide as officially claimed. Here's their version of events.
Arman Mouradyan had only three months military service left when his body was discovered on June 30, 2013. He had died from gunshot wounds at a military outpost of the Artsakh Defense Army.
His parents were told that their son had committed suicide. They've never accepted that version of events and have always held that Arman was murdered.
After graduating high school, Arman Mouradyan enrolled in the State Academy of Emergency Affairs Management. He was a superior student who later was conscripted into the army in 2011. He was transferred to Martakert a year later.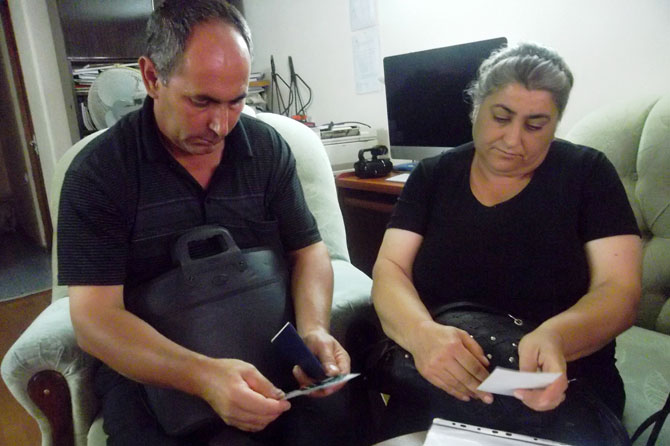 "Arman had three months left to serve. We were preparing to welcome him back home. Our son wasn't a quitter. He was a brilliant student wholoved life and his country. He was a sergeant, a strong, tall boy. You can see what poems he wrote about the homeland and his military service on the back of photos he sent home," Arman's father Hovsep recounted during a visit to the Hetq office.
On August 5, 2013, five days after Arman's body was found, Major Emil Avetisyan, deputy to the battalion leader in charge of weaponry, was arrested and charged not for the murder but for beating and employing violence against his subordinates. Avetisyan was also charged with abuse of authority by an officer.
"Our boy was planning to continue his education at the Emergency Affairs Academy. He wanted to become a professional and assist his countrymen. But they didn't let him. I pursued my own investigation for one year and revealed that they killed Arman. Those soldiers who want to talk have already been discharged. Their parents have sent them overseas out of fear," Hovsep Mouradyan told Hetq.
The dead boy's father claims that Arman's murder was a ploy to have Smbat Grigoryan, the post commander, relocated. The day after the incident Grigoryan resigned his command but was appointed commander somewhere else.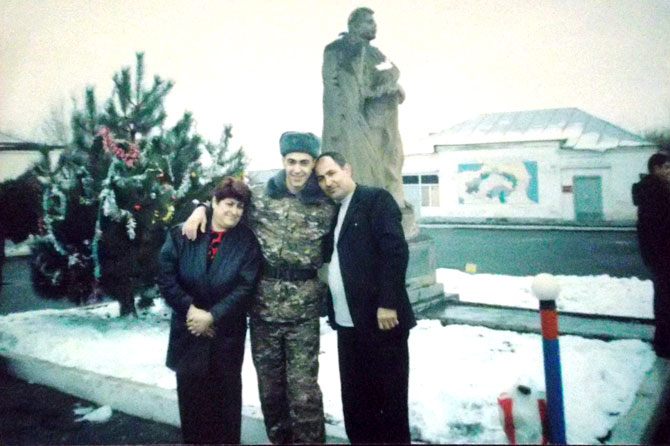 While Grigoryan denied that Sargent Mouradyan's death had anything to do with the relocation in a subsequent press interview, Arman's father continues to link the two.
"On August 1 Smbat Grigoryan told me that he was prepared to do everything to get to the bottom of my son's death. I later learned that they replaced him that same day," Hovsep Mouradyan told Hetq.
We should note that Arman Mouradyan'swasn't the first soldier to die at this military post. He was the third. On March 20, 2013 VolodyaAvagyan died, followed by RaffiMarashyan on April 19, 2013.
"There was beating and violence employed by Emil Avetisyan, which is attested to by other soldiers. On the 3oth, Emil entered the barracks and beat the soldiers, including Arman. Her snatched my son's weapon and shot him. I won't note the names of the soldiers who told me this. I am fearful that they will hurt these kids too," Hovsep Mouradyan said.
The preliminary examination of the case has now ended. The case is being tried at the Syunik Regional Court in Stepanakert. The court however never adequately informed the families of the injured parties that the trail began in May.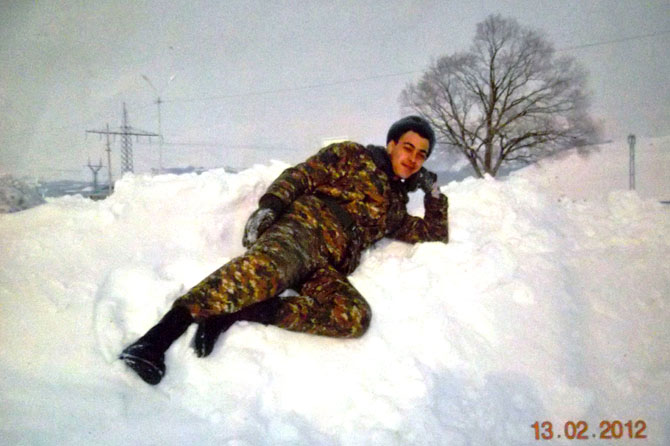 "They hold a session and we only receive a notice two days later. This is unheard of. At a minimum, I would like to have the trial relocated to Armenia. The incident took place in Martakert and the trial is taking place in Stepanakert, attended by the staff of the Syunik Provincial Court. It's an infringement from top to bottom. Our complaints either go unanswered or are directed to the same body we are protesting against," Hovsep Mouradyan told Hetq.