11:46, July 10, 2014
Employees of the Nairit rubber plant have once again gathered outside the Armenian Government building in downtown Yerevan.
Their demands have remained unchanged over the past four years – get the plant up and running and pay them over one year in back wages.
While some of the workers were still marching towards the building from the plant, another group had already assembled outside the government office, taking Prime Minister Hovik Abrahamyan and Energy Minister Yervand Zakharyan by surprise.
Confronted by the crowd that was in no mood to yet again hear a set of illusory promises by state officials, Minister Zakharyan confessed that he had nothing specific to state on the matter.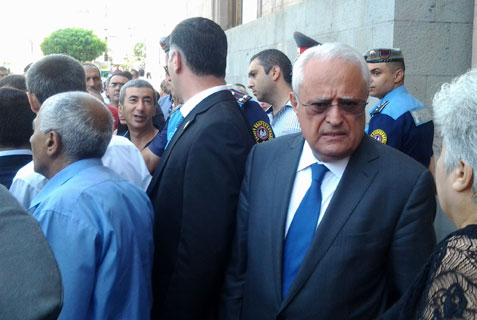 "The financial situation o Nairit and the corresponding financial documents are quite confusing and unintelligible," Zakharyan told the workers, adding that the plant's debts amounted to 50-60 million AMD (US$122-$147 million) and didn't include unpaid taxes and wages.
Zakharyan said that the government was fully aware of the problem but lacked the financial resources to resolve the matter.
Zakharyan sits on a special group created by Prime Minister Abrahamyan to study the issue that will report its findings in two months.
When Zakharyan promised the workers that the group would give itsfinal determination on Nairit by September 15, one of the workers shouted, "You've been studying the issue for the past four years."
Adding fuel to the fire, Zakharyan told the workers that they wouldn't receive any further back wages owed them because the monthly cost to the government is US$1 million. The minister said that up till now such payments were coming from the budgets of other state enterprises. He failed to note which ones.
"The money just doesn't fall from the sky. Such payments just add to the debt of Nairit," Zakharyan argued.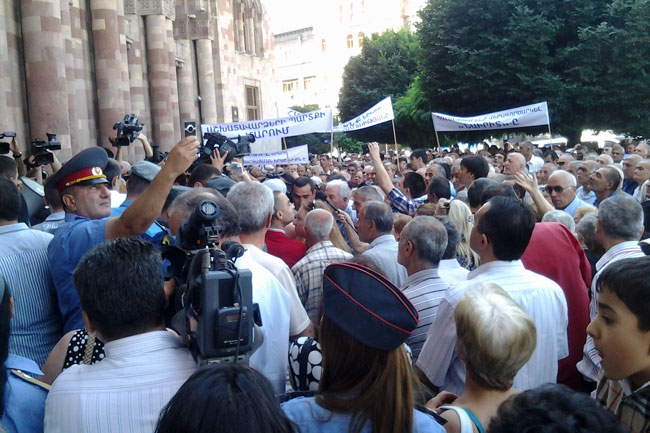 This elicited a round of boos and whistles from the crowd.
At this point the workers marching from Nairit reached the demonstration site carrying a variety of banners.
PM Abrahamyan entered the crowd and confessed that the government didn't know why or how Nairit went belly up. (Hetq has written extensively on this, revealing the figures and schemes responsible)
"We are at our wits end. We've been studying the matter for two months now and have yet to figure out who did what and how," Abrahamyan said. "We're looking for the owner but can't find him."
As to why no one has been charged in the financial collapse of Nairit, Abrahamyan could only say, "We will clarify who is responsible and punish them."
The workers kept raising the name of Vahan Melkonyan, the former director of Nairit, as the person to go after.
Abrahamyan said that after today's government cabinet session, he would meet with a delegation of the workers for a more detailed conversation on Nairit.
Top photo: Prime Minister Hovik Abrahamyan
2nd photo: Energy Minister Yervand Zakharyan