00:03, April 3, 2014
Formerly imprisoned Russian businessman Mikhail Khodorkovsky now-defunct Yukos Oil Company established a subsidiary in Armenia that, in turn, founded its own daughter companies with their total assets amounting to more than double the Republic of Armenia's state budget in 2006. While Rosneft (an oil company majority owned by the Russian government) and Yukos' Armenian subsidiary continue to battle in foreign courts for control over other Yukos subsidiaries, the Armenian subsidiary's former director is on Interpol's wanted list under dubious charges.
Though Rosneft was able to legally possess Yukos' Armenian subsidiary, Yukos CIS Investment LLC, the Russian company was unable to seize Yukos CIS' fixed capital, since the management of Yukos CIS declared that it's been spent. This capital, recall, was 500 million AMD (around $1 million USD).
Defending Rosneft's interests in the Armenian court, attorney Armen Ter-Tajatyan, in conversation with Hetq, said that Yukos management presented a corresponding bank statement, substantiating that the fixed capital was spent, and basically, Rosneft got nothing from Yukos CIS. No other financial documents were provided to Rosneft. It's unclear, for example, what this company did in general. Ter-Tajatyan adds that his clients also don't know how much are the assets of Yukos CIS Investment's daughter companies — Yukos representatives stubbornly did not provide those documents.
Rosneft appealed to Armenia's law enforcement authorities. Criminal proceedings were launched in Armenia, and former Yukos CIS director Armen Mikaelyan was charged.
Mikaelyan was appointed the director position through former Executive Vice President of Yukos Oil Company, attorney Vasily Aleksanyan of Armenian descent, with whom Mikaelyan studied at the Faculty of Law at Lomonosov Moscow State University. Both also graduated from Harvard University.
Aleksanyan worked at Yukos since 1996. Aleksanyan was arrested around the same time as members of Yukos management. He was imprisoned from 2006–2008, under charges of money laundering and embezzlement of more than 11 billion rubles of another company's property (OAO Tomskneft VNK). Though he was diagnosed with AIDS the same year, he was kept in prison till 2008. In court, Aleksanyan said that he was asked to give false testimonies against Mikhail Khodorkovsky and Platon Lebedev in exchange for his release, but he refused. He was released only in December 2008, on a bond of 50 million rubles, when his health had already drastically deteriorated. The case against him was dropped in 2010, and in October 2011, he died, aged 39. It was through him that Yukos CIS Investment was registered in Armenia.
Yukos Armenian Subsidiary's Daughter Companies' Assets More Than Double Armenia's 2006 State Budget
A Yukos employee, who requested anonymity, informed Hetq that the assets of Yukos CIS Investment's daughter companies comprise around $4 billion, and not only in practice, but also in theory, these monies could not "flow" through Armenia since they were more than double Armenia's 2006 state budget. These are not cash, but other assets that have approximate monetary value.
The same source told Hetq the details of the founding of Yukos CIS. On December 14, 2001, the Yukos Oil Company Board of Directors adopted a decision to establish a subsidiary company in Armenia. At that time, the structure of Yukos Oil Company was formed by a group of vertically integrated departments, corresponding to international practice. The question of why Armenia was selected — a country that has no connection to the oil extraction industry — was discussed extensively. "At the time, there were more favorable currency regulations in Armenia; rather, it's more accurate to say that such regulations were completely absent. Since Armenia was not considered an exporter of natural resources, it made no sense to have a hard currency regime in the country, as it was in Russia or other countries. Furthermore, the banking system in Armenia was liberal and stable. Added to this were favorable tax benefits, whereby upon payment of $1 million USD of authorized capital, the investor was exempt from [paying] income tax by 100% for the first two years and by 50% for the subsequent 8–10 years. Armenia's then-leadership spoke about all these conditions at several international conferences, and in conformity with this, legislation on domestic banking and (foreign) currency was developed."
Consequently, Armenia was very convenient to establish an international holding group, led by Yukos CIS. The plan to create this structure was discussed and approved by Yukos' international auditor, Price Waterhouse Coopers.
As previously reported, Yukos CIS Investment (registered in Armenia) founded Yukos Hydrocarbons Investment in the British Virgin Islands. Yukos Hydrocarbons, in turn, founded Fair Oaks Trade and Invest Limited, and Glendale Group Limited, both also in the Virgin Islands. But the assets were centralized at Yukos Hydrocarbons Investment.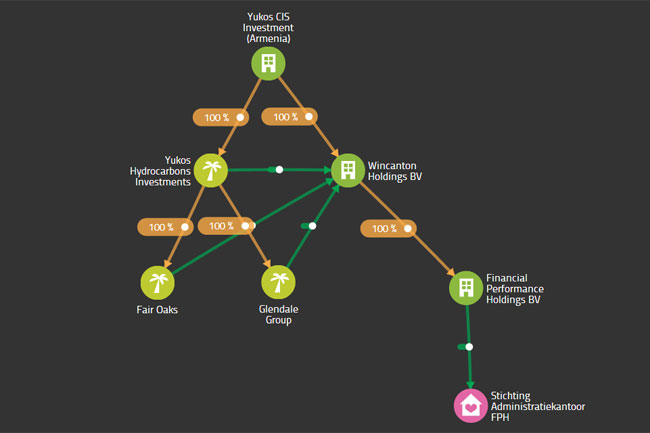 Yukos managers, when they sensed the imminent danger, established in the Netherlands another Yukos CIS Investment subsidiary, Wincanton Holding, to which they transferred the assets of Yukos Hydrocarbons Investment and its subsidiaries. Wincanton Holding, in turn, founded another company in the Netherlands, Financial Performance Holding (FPH), and transferred the assets it received to this new company in 2005. And finally, FPH, in order to protect shareholders' interests, transferred the assets to Stichting Administratiekantoor FPH.
Stichting ("foundation") is an organization that has special legal status, which doesn't have shareholders, but it can engage in charitable, public, economic, and even commercial activity. It can also be a shareholder of another company and carry out its commercial activity through its daughter companies and manage the equity capital. This type of foundation acquires the company's shareholders, exchanging them for depositary receipts.
As previously reported, Rosneft was able to legally possess Yukos CIS and Wincanton Holding. And now Yukos and Rosneft continue to battle it out for Yukos Hydrocarbons Investment's assets in Amsterdam courtrooms. Asked what they've been able to keep or bring back and what they've lost so far, the Yukos employee said: "Both sides, perhaps, have lost time and resources, but there are yet no significant gains for either party."
The Armenian court acts are examined by the Amsterdam court. Included in the Amsterdam court's interim act in 2013 in the case of Yukos CIS (already under the leadership of Rosneft) and its subsidiary Wincanton Holding vs. the Armenian group's companies was former Judge Suren Ghazaryan's confession in Yukos' favor that he was under pressure when he issued the ruling, which he did under orders.
Yuko's activities in Armenia were mostly examined in Judge Suren Ghazaryan's proceedings. The Amsterdam court's former judge also said during the trial, he was forced to interrupt the court sessions several times so that he could follow the instructions given to him.
Suren Ghazaryan also said that the other judges likewise had to follow those orders.
As Hetq previously reported, Ghazaryan currently lives in the US and is asking for political asylum from the US government. A Government-in-Exile of Western Armenia was founded in the US, and Ghazaryan was recently "proclaimed" its justice minister.
Criminal Case Continues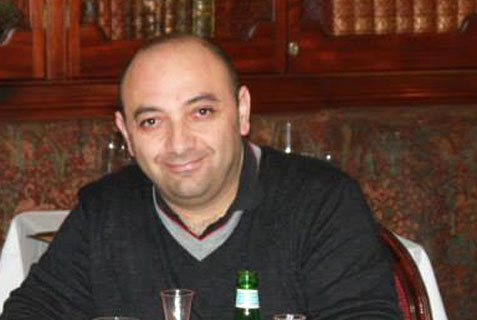 Though the judicial processes in the Yukos cases have adjourned in Armenia's courtrooms, the criminal case against former Yukos CIS Investment director Armen Mikaelyan was not quashed. The case was launched with the General Investigation Department of the Republic of Armenia (RA) Police in March 2009, under RA Criminal Code Article 214 Section 1; that is, abuse of authority by the employees of commercial or other organizations.
Mikaelyan was accused for "arbitrarily and for unfounded reasons refusing to present the company's registration certificate and seal." Rosneft attorney Armen Ter-Tajatyan confirmed that the these items were given to them; however, the criminal prosecution against Mikaelyan was not terminated. The RA Police, responding to Hetq, said the investigation of the criminal case continues. As for why it's taking so long, according to the police, apparently the case had previously been suspended.
"The criminal case was launched, and then Mikaelyan was accused of not performing those actions, the performing of which was prohibited not only by law, but also by court rulings. By the way, the criminal case continues as before even after Mikaelyan back in mid-2009 performed those required actions after the reversal of the court rulings," says the Yukos employee.
Asked whether Mikaelyan left the country because of the criminal proceedings against him and pressure applied on him, our source said: "Armen Mikaelyan's going to the US from the start under no circumstances was dictated by the existence of the criminal case, which was not yet launched at the time; however, not returning to Armenia was the direct result of the existence of that case. The greatest pressure without a doubt was the launching of the criminal case and its investigation. If a person is being accused of adhering to the requirement of the law, then the purpose of the given criminal case is to achieve the desired result through unlawful means. This process can be called nothing other than pressure."
Armen Mikaelyan is wanted on the Interpol list, though where he can be found is known. And Yukos' cases continue to be examined in courts abroad.
Hetq received the following reply to the nine questions (including one about the US$4billion) we sent to Rosneft from company spokeswoman Maria Ryzhova: "To the extent that court decisions regarding the former assets of Yukos are important to the operation of Rosneft, they are described in the published financial accounts of Rosneft. Other than that recorded in the company's consolidated accounting, Rosneft does not comment on the company's strategy, tactics, or ongoing judicial disputes."
P.S. When Hetq attempted to establish contact with any of Yukos' representatives, we were asked whose orders we are following that we've begun to take an interest in the case. We also received the same reaction from Rosneft's attorney, Armen Ter-Tajatyan, who tried to determine out what forced us to inquire about this.