11:53, March 29, 2011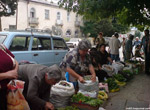 Hovhannes Hovhannesyan, a member of the Public Council, stated today that the decision taken by the Yerevan Municipality at the end of 2010 to ban all street trade was legal and called for.
Mr. Hovhannesyan said at a press conference that such sidewalk commerce was unsanitary and that it fuelled corruption. He said that in the past, sellers had to pay off local officials for a "spot" on the street. The Public Council member added that there were socio-economic and psychological aspects to street commerce that have yet to be studies.