11:41, March 16, 2011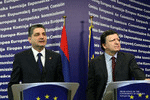 President of the European Commission Jose Manuel Barroso told visiting Armenian Prime Minister Tigran Sargsyan that "relations between Armenia and the European Union are on the move."
"
This ambitious treaty will bring our political and economic relationship to a new level and draw Armenia closer to the European Union. It will in particular include the negotiation of a Deep and Comprehensive Free Trade Area, which will deepen Armenia's economic integration with the European Union," Barroso said.
Mr. Barroso also said that negotiations would soon start on a series of visa reforms that would make it easier for Armenians to travel to the EU. Regarding regional issues, Mr. Barroso said that the EU remained committed to promoting peace, stability and reforms. "We remain seriously concerned about continuing armed incidents at the Line of Contact in Nagorno-Karabakh and the ongoing militarisation in the region. The persistence of this conflict remains a major impediment to development in the region," Barroso noted. Regarding Turkish-Armenian relations, Mr. Barroso said that the EU continues to support the normalization process and that, "We encourage both countries to stay committed to this historical process."
Mr. Barroso made the remark at a joint press conference with Sargsyan in Brussels today. The Commission President added that excellent progress was being made in the negotiations on a future Association Agreement between Yerevan and Brussels.