11:26, February 25, 2011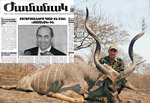 At today's pre-trial court hearing at the Kentron and Nork-Marash Administrative Court, in which members of former RA President Robert Kocharian's family are suing the newspaper Zhamank, defense lawyer Nikolai Baghdasaryan called on the plaintiffs to state exactly what allegations they want the paper to retract.
Back in September and October of last year, Zhamanak ran a series of articles claiming that Kocharian's wife Bella was involved in the importation of medicines and that the family owns the "911" drugstore chain and that they also have a stake in other companies in the prescription drug business. The paper also wrote that the family also had extensive mining interests and that Kocharian's son Sedrak recently purchased a diamond mine in India. The paper's lawyer proposed that the plaintiffs prepare a retraction statement and submit it to the Zhamanak editorial board for publication. Baghdasaryan stated in court that after such a retraction, the 6 million AMD compensation figure demanded by the Kocharian family might be dropped. In any event, the lawyer confessed that he was hard-pressed to understand how they arrived at such an amount in the first place. The prosecuting lawyer asked the court for one month in which to draft a retraction and submit it to the paper. The presiding judge granted the plaintiffs two weeks.