12:56, February 23, 2011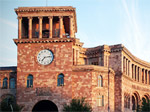 RA Prime Minister today received a Fortune Oil company delegation headed by Daniel Chiu. Present at the meeting was Chinese Ambassador to Armenia Tian Changchun.
PM Sargsyan stressed the importance Armenia's government places on foreign investments in the country's mining sector and appreciates Fortune Oil's extensive investment program in this regard. The Chinese delegation said the company plans to invest upwards of $500 million in Armenia in two stages.