13:37, February 11, 2011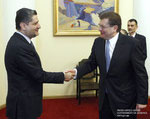 Armenian Prime Minister Tigran Sargsyan today met with visiting Ukrainian Foreign Minister Konstantin Grishchenko.
PM Sargsyan noted that it was imperative to build upon the traditional friendship between the two peoples and that this was an important policy objective in Armenia's foreign affairs. The Armenian PM added that he hoped to see a list of specific agreements being signed during the visit of FM Grishchenko. Konstantin Grishchenko expressed confidence that his visit to Armenia would give new impetus to the comprehensive development of bilateral cooperation.