13:46, December 7, 2010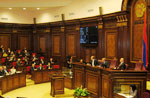 Today's session of Armenia's parliament began with a minute of silence to commemorate the memory of those who dies during the 1988 Spitak earthquake.
It appears that many MP's had forgotten their registration cards that are needed to sign in. Parliament President Hovik Abrahamyan again reminded the MP's to carry their cards with them at all times.