14:07, November 23, 2010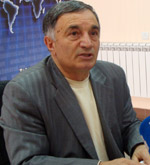 Arkady Ter-Tadevosyan, who led Artsakh military forces under the nom de guerre of "Commandos", answered reporters' questions today regarding the performance of Armenian Defense Minister Seyran Ohanyan. The armed forces of Armenia and Artsakh have experienced several tragic incidents recently where conscripts have been either killed or beaten by their superiors and other soldiers. The latest incident took place on November 19 in Artsakh.
The former major-general said it was easy to give advice but that he would like to see Minister Ohanyan raise the issue of his shortcomings, so that he and others could help resolve them. Mr. Ter-Tadevosyan noted that the human factor had an important role to play and that top officers must be held accountable for their actions. He said that young conscripts must undergo a period where they shed their civilian ways for life as soldiers. The Artsakh commander said that parents must be brought in to the equation and that conscripts must be allowed to maintain links with friends and families. He also emphasized the need for adequate rest and relaxation for army conscripts Ter-Tadevosyan argued that an army doesn't achieve victory based on arms and armaments only and that the human factor weighs supreme when it comes to the performance of the military and its leadership.