15:06, November 16, 2010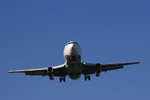 Ishkhan Zakaryan, President of Armenia's Control Chamber, urged the government to review the registration and licensing of airlines in Armenia. He made the statement when presenting the findings of his agency's 2009 annual report to the parliament.
Mr. Zakaryan pointed out the example of Blue Airways, registered in Armenia. In 2007, the company declared it operated 27 aircraft outside of Armenia; in the UAE, Iran, and various African nations. The company reported 80.5 million AMD in turnover and paid 230,000 AMD (just over $600) in income tax. During the same time frame, South Air Lines, operated 22 planes and reported 23.7 million AMD in turnover. Mr. Zakaryan said that there were some twenty companies registered in Armenia operating aircraft and that, in total, they paid 36 million AMD in taxes. He compared this with the 45 million AMD paid in one year for income tax just by one RA Minister of Defense helicopter. The helicopter was used for crop dusting in Armenia.