15:28, October 26, 2010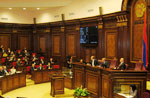 Hovik Abrahamyan, Chairman of the RA National Assembly, stated today that the legislative body would immediately vote to recognize the ARA (Armenian Republic of Artsakh) is so directed by President Serzh Sargsyan.
He made the statement in response to a reporter who asked if the meeting between the presidents of Armenia and Azerbaijan scheduled for tomorrow in Astrakhan, Russia, would have any impact on the draft bill presented by Heritage Party MP's for recognition. "Don't let the impression take hold that we are against the recognition of Karabakh. It's just that we don't want to upset the negotiations process," Abrahamyan said. The NA Chairman said he had personally suggested to the Heritage Party faction that a vote on the bill be postponed and that he had not yet received a reply. Debate on the issue is scheduled for either tomorrow or at the next day's parliamentary session.