17:17, October 6, 2010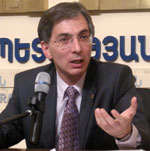 During his presentation of the 2011 state budget, RA Finance Minister Tigran Davtyan said 45% was comprised of expenditures in the social and cultural sectors. He added that 63 billion AMD in additional budgetary expenditures were envisaged and that 44 billion is to be spent in the same two sectors.
Minister Davtyan said that an additional 12%, or 1 billion AMD, would be spent on education, and that an additional 9 billion would be spent in the health field. He said that this year Armenia's foreign debt would comprise 42-44% of the nation's GDP and that it wouldn't pass the 50% critical level.