11:36, September 2, 2010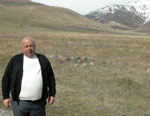 41 residents of the village of Artavaz, in Kotayk Marz, say they are sticking to their guns in the class action lawsuit they have brought against the Armenian government.
On February 25, 2010, the government declared 96 hectares of village land as "eminent domain" and to be turned over to the A&M Rare Company to build a bottling facility for local spring water. The company's director is Muhammed Mousallam, a Saudi Arabian sheikh. Residents argue that the amounts being offered by the company in compensation ($1,800 for one hectare of meadow land and $6,000 for crop growing) are unacceptable and way below market prices. According to the tender agreement reached between the government and A&M Rare, the company was obligated to purchase the land within a 3 month period after the signing of the contract. However, local residents were only informed of the deal five months later. Artavaz resident Yervand Naltakyan says the prices offered villagers are laughable since good land is in such short supply. He told Hetq that those residents who didn't sign up for the group lawsuit are now complaining.