14:37, August 11, 2010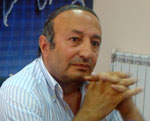 While there are no official statistics, the number of Armenians residing in Belgium today is said to number from 10,000 to 12,000.
Gevorg Minasyan, President of the Federation of Armenian Organization in Belgium and the Chief Editor of the Armenian language
Lragir
periodical says that the number might even reach 20,000. The first wave of Armenian immigrants, mainly compromised of merchants centered in the town of Bruges, dates back to the 17
th century. The next wave came in the early 20th century, after the 1915 Genocide, followed by Armenian immigrants from the Middle East from the 1940's through the 1960's. The last wave came from Armenia in the 1990's.
According to the Soviet Encyclopaedia there were 800 Armenians in Belgium in 1989, but Mr. Minasyan thinks the number was much lower, around 200. He says that the earlier immigrants are well integrated into Belgium society and are mostly engaged in various types of business. The newer arrivals from Armenia have had a much harder time coping. While some have obtained work and residency permits, many have not. Mr. Minasyan notes that even those staying illegally would rather take their chances than returning to Armenia. Mr. Minasyan, who also runs the Nvart cultural center in Antwerp, says that the parents of Armenian children prefer not to send their kids to Armenian school. He says that Nvart operate a total of four such schools with 100 pupils. He says that in addition to transportation and other accessibility problems, many parents believe that learning Armenian is not important and prefer that their children integrate into Belgian society as quickly as possible. Mr. Minasyan says that he is in constant touch with Hranush Hakobyan, RoA Minister of Diaspora Affairs in Yerevan. On her visit to Belgium this past April, they discussed the shortage of appropriate Armenian textbooks. He says that they have received some 2,000 ABC primers, 250 books and visual aids from the Ministry.