14:07, October 27, 2009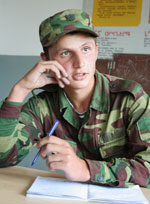 I wrote my first poems when I was around 15 or 16 years-old. I wrote mostly at night, when I could think deeply; when there was no one around to bother me" explains Private Rafik Melkonyan, "I also write her in the army, I write during the breaks while on patrol duty."
19 year-old Rafik has been serving in the NKR Defense Army for the past 16 months. We got acquainted quite by accident. When we asked a visiting Lieutenant-Colonel Hovik Danielyan about the creative and artistic types in the units under his command, they immediately called for the "poet". Rafik and his army buddies have been on military patrol on the eastern boundary of the country for 10 months now. He relates that it was his platoon leader who first noticed that he was penning poems. During his enlistment, Rafik has been able to complete some 15-20 poems dedicated to his mother and sister as well as love sonnets. He carefully copies them down in notepads and sends them to the folks back home. When we visited, he only had one notepad on him, filled with love poems.
...You are an entire world; you are the sun for me,
My life, my spring, my dream inextinguishable,
I give you a gift of one red rose,
The rose will tell you of my love,
Perhaps you will understand, perhaps you will love me,
And perhaps you too will live a life of mad love,
Listen to my words, to my heartfelt song,
Alas, without you the spring will not bloom,
Alas, without you my eyes will tear,
Only by your side will my heart rejoice.
Rafik also paints. In the notebooks, alongside the poems are religious sketches in the shape of crosses, dedicated to his mom and sister, Anna. Reading and liking his work, some of the other guys in the platoon have asked Rafik to write poems for them as well. He doesn't refuse their requests. After reading a few of his poems, I ask Rafik, "Do you have a girlfriend? Have you ever loved someone?" He answers, "I don't have one, but I have loved." In eight months, Rafik will finish his army stint. At home, patiently waiting, are his mother, sister and brother. His brother is a dental technician and Rafik told me that he'll probably follow in his shoes. But he still has time ti think about his future plans. Until then, there's still eight months in the army – the officers and his enlisted buddies, the military unity and the frontlines."