[ 2010/10/04 | 16:30 ]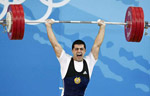 People of Gyumri Boast "Whomever we send comes back a winner"
When the noted Armenian weightlifter Yurik Vardanyan walked away with the Gold Medal at the 1980 Moscow Olympics, people clamored to find out "Why Yurik?" They went to Leninakan, Yurik's home town, to get an answer.
"Who else could win the championship?" surprisingly answered the witty people Gyumri. "We sent Yuri, so we believed that we would win the title. If we had chosen another weightlifter, then that other one would definitely have become the champ," they said.
The Gyumri people once again used this humorous answer, when Tigran Martirosyan, another home town boy, became World Weightlifting Champion in the 77kg weight category at the recent World Weightlifting Championships in Antalya, Turkey.
In was back in 2007, at the age of 19, that the Gyumri weightlifter walked away with the Silver Medal in the 69kg weight category at the European Championships in Strasbourg, losing out to the French Weightlifter Dabaya. In 2008, in Lignano, Italy, Tigran left behind everyone, and became Europe Weightlifting Champion in the same weight class. He was also named   the best all-around weightlifter of that championship. That same year, Tigran became the bronze winner in the Beijing Olympic Games. In 2009, at the World Championships in Korea, Tigran was edged out by Chinese lifter Lu Xiaojun, and came home with a silver medal in the 77k division. Not to be out done, Tigran took gold at the Europe Weightlifting Championship held in April, 2010, in the Belarus capital of Minsk.  On September 23, 2010, the European Champion went to Turkey and was declared World Champion as well, beating out his old rival Lu Xiaojun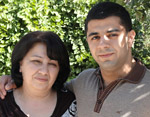 Seda Yakhanedjyan, Tigran's mother, recalls by heart every single detail (dates, years and places) concerning the heights that her son has reached so far. "And that's not all," she says laughing. I am my son's shadow as well as his friend. The thing is that my son doesn't even pour water for himself to drink and   neither does he knows where his clothes are placed. I take care of his food and rest, so that nothing disturbs his routine. I watch him like a hawk and see that he gets everything he needs."
Tigran is the second of three brothers. Their father was also a weightlifter and instilled them with a love of the sport at an early age. However, he didn't go out of his way to see that the boys followed in his footsteps. "But the genes and their father's stories about well-known athletes played a major role," Seda Yakhanedjyan says.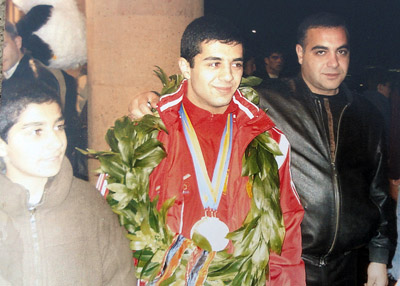 Hayk, her elder son, became a Master of Sports in weightlifting but had to quit it because of family problems (when their father, famous weightlifter Gevorg Martirosyan died at the age of 45). Tigran started to practice weightlifting at the age of 11. By 13 he was already the winner of Armenia's Weightlifting Championship. "Everyone used to say that Tigran has a great talent for sports," his mother remembers.
Tigran's parents were convinced their son had God-given talents. Till this day his mother still believes that her son was born to make his nation happy. "My daughter died when she was 9. Tigran was born a year later, on June 9, 1988, at 8:20 – on the same day and hour as his dead sister was born. Both my husband and I knew that there is no such thing as coincidence, that's why we were sure that our son would bring happiness not only to his family but also to his country. We even named him after the great Armenian king Tigran Mets, whose reign is marked by the era of Great Armenia that stretched from sea to sea. My husband's people come from Kars and mine – from Sebastia. We spared no effort to instill patriotism in our children. When the national anthem of Armenia was heard in Turkey and the Armenian flag was raised, that is when my son spread happiness among all the 'sea to sea' Armenians – a joy which probably only we Armenians can understand," she said.
The date and hour coincidence with that of his sister is not the only thing that makes Tigran's birth remarkable. Tigran's father had planted two apple trees in the name of his two firstborns, the boy and girl. After the girl's untimely death, though, the tree dried up.  They never cut down the tree that year, either because of forgetfulness or just because of lack of time. Then it seemed that a miracle occurred – the tree began to blossom once again with Tigran's birth.
"Whenever the tree is rich in fruit, it means that my son will be successful in his career that year. This year the apples on the trees were far more than the leaves, and my son became the champion," she said, revealing the family's secret.
Half seriously and jokingly, Tigran's mother also expressed concerns about her son's future wife. "Tigran wants a girl of good manners and moral behavior. She should also be well-educated. She should understand, support and inspire him and must do her best not to act selfishly once they encounter problems or a difficult situation. My husband was also an athlete, and it was quite clear for me that I should sacrifice many things for him to move forward and achieve success in sport. I graduated with a degree in teaching, but I devoted myself to my husband's career and now to my son's. However, if Tigran's wife doesn't manage to do that, I will always be there for him. Presently my son's heart is preoccupied. Time will show. Gagik Tsarukyan has promised to see to my boy's marriage," Mrs. Seda said.
Tigran speaks neither of his beloved nor of future marriage. He doesn't reflect upon his future actions either. He must prepare for the next Olympics. This goal seems to sum up what Tigran is all about nowadays.
I ask Tigran what goes through his mind, his emotions, as he approaches the weight bar. "Every athlete should only think about victory. Once I am standing on the platform, I don't think, hear or see anything. There is only me and the weight to lift," he says with that enchanting smile of his. "I devoted my latest victory to the memory of my cherished coach Ashot Mkhitaryan, who unfortunately neither saw my victory or the Armenian flag raised in Turkey," Tigran said.
Ashot Mkhitaryan, who had trained Tigran for 11 years, passed away four months ago. The memory of his coach makes Tigran upset and sad. Ashot Mkhitaryan always believed in Tigran and his dream was to one day return home with a gold medal from the World Championship and the Olympic Games. "My victory belongs to my coach, my friends, my relatives, and to all Armenians. My mom and coach have always believed in my victory. This was the first championship without my coach, and I confess, it was really hard for me," Tigran says.
"Is there such thing as 'wishing bad luck' to the others at the competitions?" I ask Tigran. My question makes him smile. "It's like human unwillingness. If I had raised the 205kg weight, that would deprive my opponent, the Chinese weightlifter, from every opportunity to win. But I failed. I waited impatiently to see how he would make out. Of course it's not good to be happy when another fails, but this is the case when you wish your opponent didn't raise the ordered weights. And in the end, I was lucky and I became the champion. Things like that happen in sport. But no one relies on them, you should continuously train," Tigran says.
What made Tigran really upset at the Antalya Championships was seeing his friends' misfortunes and failures. He was especially troubled upon seeing Ara lying on the platform and reeling under pain.
"We thought it was the end; that Ara would never be able to perform again. Thank God, the doctors assured us that it's just dislocation, a muscle injury, and that in a few months he will be able to join us," Tigran noted.
I recount the story, now a Gyumri adage, about Yuri Vardanyan. I point out that at that time there were also five weightlifters representing Armenia and only one of them won the champion's title.
Tigran again smiles and says, "We should do our best to break that stereotype so that one day the people of Gyumri can boast, "See…Everyone we sent came back as champs"
Translated by Ani-Nicole Babayan